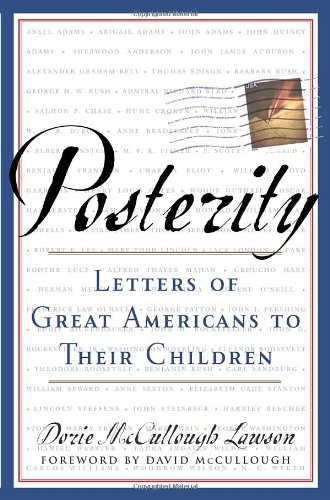 Posterity: Letters of Great Americans to Their Children
- Hardcover
Goodreads Reviews : 3.84
by Dorie McCullough Lawson
ISBN :038550330X
ISBN13: 9780385503303
About this item :
An elegantly designed, beautifully composed volume of personal letters from famous American men and ...women that celebrates the American Experience and illuminates the rich history of some of America's most storied families.
"Posterity" is at once an epistolary chronicle of America and a fascinating glimpse into the hearts and minds of some of history's most admired figures. Spanning more than three centuries, these letters contain enduring lessons in life and love, character and compassion that will surprise and enlighten.
Included here are letters from Thomas Jefferson to his daughter, warning her of the evils of debt; General Patton on D-Day to his son, a cadet at West Point, about what it means to be a good soldier; W.E.B. DuBois to his daughter about character beneath the color of skin; Oscar Hammerstein about why, after all his success, he doesn't stop working; Woody Guthrie from a New Jersey asylum to nine-year-old Arlo about universal human frailty; sixty-five-year-old Laura Ingalls Wilder's train of thought about her pioneer childhood; Eleanor Roosevelt chastising her grown son for his Christmas plans; and Groucho Marx as a dog to his twenty-five-year-old son.
With letters that span more than three centuries of American history, "Posterity" is a fascinating glimpse into the thoughts, wisdom, and family lives of those whose public accomplishments have touched us all. Here are renowned Americans in their own words and in their own times, seen as they were seen by their children. Here are our great Americans as mothers and fathers.
Product details
Format : Hardcover
ISBN-10 : 038550330X
ISBN-13 : 9780385503303
YOU MAY ALSO LIKE